1. 


Contents
1. Excess child mortality in Europe


1.1. Data
1.2. The discussion by EuroMOMO
2. Excess mortality of children in Spain
2.2. Discussion in political institutions and the Media

3. Excess child mortality in Europe: Summary and concluding discussion
4. Excess mortality in Spain in the summer of 2022
4.1. Usual summer excess mortality
4.2. Mortality in Spain between June and the end of August of 2022
4.3. The discussion in the media

5. Excess mortality in the summer in Spain:
Summary and concluding discussion
6.
Open questions

PDF-Download of this page


PDF-Download of all pages of this topic in English



  XX pages, XXX KB

I appreciate hints on errors and suggestions for improvement:
r_a_wagner@gmx.de


The puzzling increase in deaths in Spain and Europe in 2022 so far
Excess Child Mortality in Europe and unusual Summer Excess Mortality in Spain
Tenagua, 04. November 2022
1. Excess child mortality in Europe





1.1. The data
Aufmerksamen Beobachtern des European Mortality Monitoring (EuroMOMO)1 fällt schon seit Monaten eine wesentlich erhöhte Sterblichkeit in der Altersgruppe 0 - 14 Jahre auf, aber auch in der Altersgruppe 15 - 44 Jahre liegt die Sterblichkeit über dem Niveau der Jahre 2020 und 2021.

Bei den Kindern ist darüber hinaus die währen des ersten Jahres der Pandemie deutlich reduzierte Mortalität auffällig.2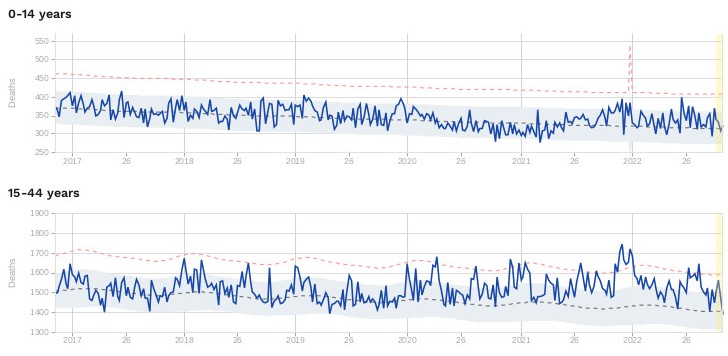 Besonders deutlich zu sehen ist dieses Phänomen in den grafischen Darstellungen der kumulierten Übersterblichkeit während der Jahre 2020 (grau), 2021 (dunkelblau) und 2022 (hellblau).
3


Ist für alle Altersgruppen zusammen genommen der sprunghafte Anstieg der Übersterblichkeit zu Beginn der COVID-19-Pandemie deutlich zu erkennen, fehlt dieser quantitative Sprung in den beiden jüngsten Altersgruppen; in der der 0 - 14-Jährigen findet sogar eine deutliche Reduzierung der Sterblichkeit statt, die sich über den größten Teil des Jahres 2021 fortsetzt und erst gegen Ende 2021 in eine Steigerung übergeht, die sich im Jahr 2022 ihrerseits praktisch unverändert fortsetzt.
In der Gruppe der 15 - 44-Jährigen fällt nur auf, dass die Übersterblichkeit 2022 höher ist als 2020 und dass die zugrunde liegende Steigerung ebenfalls Ende 2021 einsetzt.








Notes

1) https://euromomo.eu/
Selbstdarstellung:
"EuroMOMO is a European mortality monitoring activity, aiming to detect and measure excess deaths related to seasonal influenza, pandemics and other public health threats.
Official national mortality statistics are provided weekly from the 29 European countries or subnational regions in the EuroMOMO collaborative network, supported by the European Centre for Disease Prevention and Control (ECDC) and the World Health Organization (WHO), and hosted by Statens Serum Institut, Denmark."

2) (Nebenstehend) https://euromomo.eu/bulletins/2022-43/ , jeden Donnerstag aktualisiert; hier die Diagramme für die Altersgruppen 0-14 und 15-44 Jahre aus dem Bulletin der Woche 43/2022, ab Ende 2016, aufgerufen am 05.11.2022.


3) (Nebenstehend) https://euromomo.eu/bulletins/2022-43/; hier das Diagramm der kumulierten Übersterblichkeit für alle Altersgruppen im Vergleich zu den Altersgruppen 0 - 14 und 15 - 44 Jahre aus dem Bulletin der Woche 43/2022, ab Anfang 2020, aufgerufen am 05.11.2022.